written on  BY MRGBLOG
Make the word Gratitude a verb this week 🙂
My guess you aren't surprised that a blog titled "Thankful in all Things" would be about moving us forward into this week of Thanksgiving. The word "intentionality" keeps rolling around in my mind. When I think about being intentional, it means there is a need for me taking action. Having an attitude of gratitude denotes the same.
My friend Marcus Ellis has a Facebook page titled "Hey! Guess What? I Love You!" It started with him making a decision to go out of his way to encourage others each and every day. His decision has resulted in a Facebook page with over 2500 followers. I am sitting in a hotel in Pittsburgh. I decided to let my server (Rutha May) know how she made everyone who came in feel special. Her face lit up and she now has a little bit bigger smile for those she serves. Maybe Marcus is in to something ?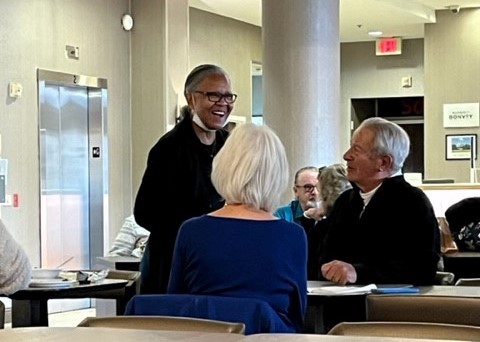 I recently found this quote by Veronica Neffinger -"There is value in going through the motions even if the feelings aren't there. Choosing to thank God even when you don't feel like it. Choose to do the same when circumstances cause you to be more stressed than thankful" It leads to that important first step of allowing having our hearts to be opened to true gratitude." I call it failing forward.
My point is that being grateful is a choice. The Aspen Brain Institute says it this way. "The effect of gratitude on the brain is long lasting. Besides enhancing self-love and empathy, gratitude significantly impacts body functions and psychological conditions such as stress, anxiety, and depression. https://aspenbraininstitute.org/blog-posts/gratitudeandthebrain Scripture reminds us of the same. We are to in prayer and petition let our requests be made known to God (again, the action is going to God with our concerns). When we do, He promises a peace which is beyond our own understanding. Philippians 4 https://www.biblegateway.com/passage/?search=Philippians%204:6-8&version=NIV "Let that peace of Christ rule in your hearts, since as members of one body you were called to peace. And be thankful." Colossians 3:15 As you gather with others this week for Thanksgiving be intentional about sharing your gratitude for them. Let them know why you appreciate them. Try what Marcus does and say, "Hey! Guess what? I love You! I bet you get loved right back and find yourself feeling blessed rather than discouraged.
Please subscribe to this blog to receive email notifications when new content is posted. Please also share it with others who you feel might be encouraged by it. You can reach me by email at [email protected]