I wrote a while back about having read Jon Gordon's book, The Garden. It was a short book that I read on Sunday afternoon sitting by the water at Smith Mountain Lake. As mentioned in this podcast, https://www.thebrianbuffinishow.com/the-garden-with-jon-gordon-225/ Jon wrote this parable like story to help folks deal with the fear and anxiety in their lives. The uncertainty in our world today makes the book even more relevant today.

It has been a month since I read The Garden. Little did I know God would use it to once again. Teaching me to remain thankful in all things and remain positive even when what is going on in the world makes me feel otherwise. I was on a Zoom call the other day with some of my oldest and dearest friends. (Side note- 6 months ago, who had even heard of Zoom? ?) The conversation turned to having an attitude of gratitude and whether it can make a difference. Studies like this one show people that stay positive and optimistic. https://www.health.harvard.edu/healthbeat/giving-thanks-can-make-you-happier Studies like this one prove what God has said all along. He wants us to have an abundant life (John 10:10). Psalm 91:2 teaches that even in the midst of trying and difficult times we can say of the LORD, "He is my refuge and my fortress, my God, in whom I trust." In fact, later in the book of John. Jesus says, "He wants His joy to be in each of us so that your joy may be complete."
I am sure many of you are experiencing your own personal trials and challenges these days. If you have been following along you know my journey through adversity, like what you are facing, has not been easy. We all have to find our own way through it. Here are just a few thoughts on what has helped me.
1) I know that God is with me. As the song, Do it again says, "He has never failed me yet" https://youtu.be/0B_lnQIITxU
2) As Jon Gordon writes in The Garden, I have to fight the distractions of my every day life so that I stay resolved in remaining positive versus succumbing to discouragement.
3) Find ways to be outward focused by serving others. This allows you to break out of just thinking about you and how you wish your circumstances were better.
4) Strive to make every moment matter. Frank Laibach writes, " Practicing the presence of God is the secret. Paul said "pray without ceasing. In everything make your wants known to God." As you are led by the Spirit of God you realize you are a child of God"
It is not easy to do. I have recently set up my phone to remind me every 3 hours to "Be Still and know that He is God". I forget. I get distracted even when I stop to recite The Lord's Prayer and/or Psalm 23. What I can say is when I do stop and remind myself, my life gains the right perspective and allows me to remain "Thankful in all things".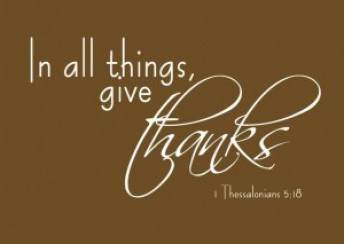 My Guillain Barre Syndrome Story can be found at www.caringbridge.org/visit/michaelguthrie You can contact me via email at [email protected]